Wooden Boat Restorations

Fowey, Cornwall
If you require wooden boat restorations in the Fowey or Cornwall areas, contact Marcus Lewis Boat Builder today.
Restoring a wooden boat can be stressful because there can be a myriad of unforeseen costs and delays. Marcus Lewis Boat Builder has over 35 years of experience working with wooden boat restorations. We work with vessels of all sizes, age, and construction.
We provide you with a feasibility service so you can be sure exactly what work is necessary, how long that work will take and, crucially, how much it will cost. We are on hand to give you all the professional help and advice you need, from a small repair to a fully restored craft.
Clinker Dinghies
Rowing Boats
Sailing Dinghies
Motor Boat Launcher
Small Racing Yachts
Large and Small Boats
Traditional wooden boats specialists

Traditional wooden boats are a thing of beauty and high craftsmanship. Many of these traditional wooden boats can lie in boatyards for many years, uncared for and in disrepair. Marcus Lewis and his highly skilled professional team will restore a traditional wooden craft to its former glory.
The site of a fully restored and repaired wooden boat becoming a beautiful vessel sailing the seas once more is a wondrous sight.
If required, we can travel to the boat to carry out your free, initial assessment before bringing it into our workshop. Our initial assessment will give you all the information you require for your restoration project.
From our central location in Fowey, we are happy to travel along the Cornish coast and beyond to provide a reliable and comprehensive service. Our highly experienced team will be only too glad to visit you and your wooden boat.
We will advise you of all costs and time involved. We understand how important the restoration or repair to a wooden boat is.
Traditional wooden boats are part of our maritime history and deserve to be part of our seagoing future, bringing pleasure for generations to come. We have all the skills and equipment to carry repairs and restoration to the highest of standards. We will help you with all your wooden boat restorations in Cornwall.
22-Foot Motor Launch
Our first restoration project was on a 22-foot motor launch, named "GUIDE", built by Dick Pearce in Looe around 1918.
GUIDE had been a well-loved sight on the Fowey River, having been owned by the Tomlin family for nearly 100 years. She was used to running river trips, and over the years she carried thousands of people. After spending some time in our workshop, we relaunched her in 2003 with a fresh appearance for her new owner.
Troy-Class Yacht
As well as building new vessels to add to the fleet, we've worked on several Troy-class yachts to varying degrees. Troy number 3, "JANET", received some attention here in our workshop.
Despite leaving the backbone and planking untouched for the most part, she received a full overhaul which included replacing all the steamed timbers, gunwales, deck beams and the deck after which the boat was completely re-nailed.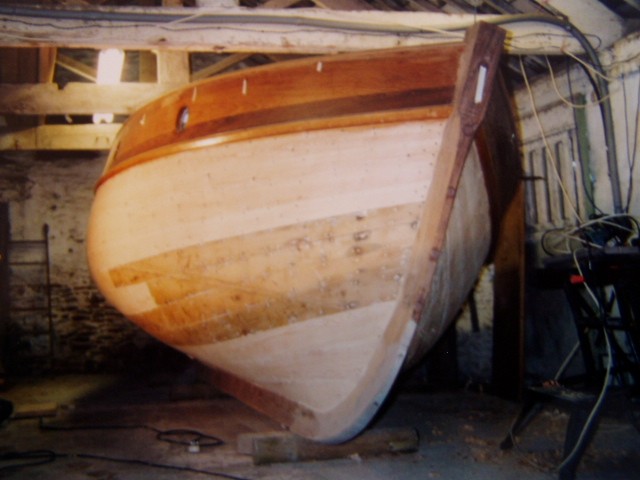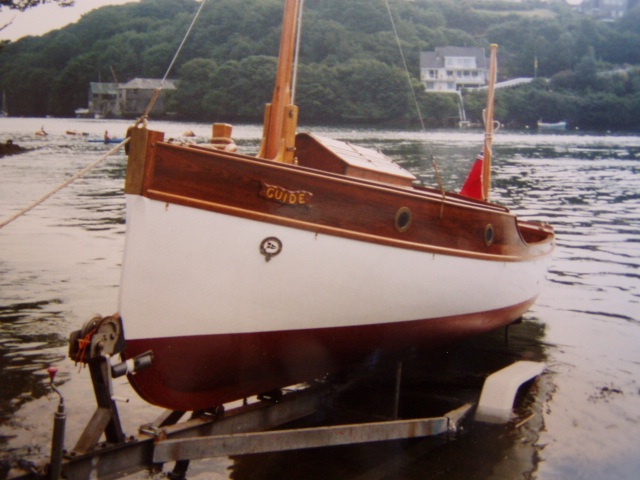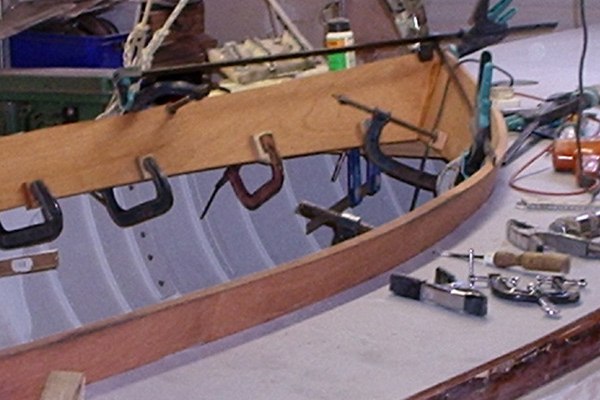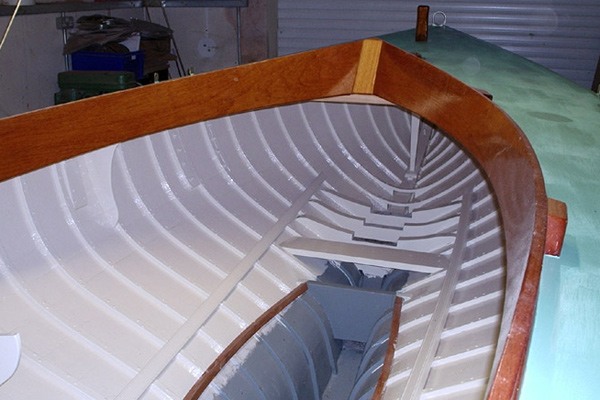 Our workshop has seen and received many boats in need of repair and some tender loving care, including Troy class yachts, Fowey River Dinghies, a St Mawes One Design, Falmouth Sunbeam Vanity as well as other rowing boats and motor launches.
Our broad range of services also includes the supply of new rudders, tillers, masts, gaffs, booms, spinnaker poles and oars for a different craft.
If you dream of owning a new wooden boat, making plans for repair and restoration works, or you need guidance on an inherited vessel, get in touch with Marcus on 07973 420 568 or complete the contact form to send an email.